In Conversation: Drusilla Modjeska and Beth Yahp
12th Nov '15 @ Berkelouw Paddington
---
You are here: Home

»

In Conversation: Drusilla Modjeska and Beth Yahp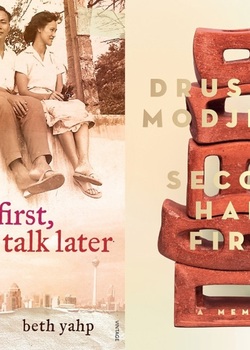 You're invited to hear Drusilla Modjeska and Beth Yahp in conversation about their new memoirs.
Beginning with the disastrous events of the night before her fortieth birthday, in Second Half First Drusilla Modjeska looks back on the experiences of the past thirty years that have shaped her writing, her reading and the way she has lived.
In Eat First, Talk Later Beth Yahp persuades her ageing parents on a road trip around their former home, Malaysia. Only the family mantra, 'Eat first, talk later' keeps them (and perhaps the country) from falling apart. Around them, corruption, censorship of the media, detentions without trial and deaths in custody continue.
Join both authors as they converse and explore these two beautifully written, absorbing and deeply honest memoirs.
Tickets $10 available from Eventbrite, $5 of which can be credited against any bookstore purchase on the evening.
Where: 19 Oxford Street, Paddington, 2021, Sydney, AU
When: Thu, 12th Nov
Time: 6:30 PM to 8:30 PM