Writers Live - Phil Jarratt introduces Life of Brine
16th Aug '17 @ Berkelouw Mona Vale
---
You are here: Home

»

Writers Live - Phil Jarratt introduces Life of Brine
You are invited to meet Phil Jarratt when he introduces his new book Life of Brine: A Surfer's Journey.
Simon Anderson, (Mr. Thruster), will host the event and Phil will be in conversation with Kirk Willcox former editor of Tracks magazine.
As one of the world's best-known chroniclers of the surfing culture for more than 40 years, Australian writer Phil Jarratt is an absolute legend. In his memoir Life of Brine: A Surfer's Journey he rides the wave of nostalgia seamlessly from the 1960s to recent times, from one side of the Pacific to the other, from the cold Southern Ocean to the warm Java Sea, from Bali to Biarritz and many points in between.
Starting with the innocence of Jarratt's early days learning to surf in the 60s, and moving through encounters with surfing greats, he shares experiences at the world's hottest surfing spots and wild times.
Jarratt pulls no punches and spares no reputations as he interprets surfing's journey from slightly spooky sidebar cult to billion dollar sport and industry - but it is also the reflections of a lifelong surfer whose pursuit of the waves has governed much of his life.
Join us when Phil Jarratt is our guest at 6.30pm on Wednesday August 16th, 2017.
Bookings are essential and can be made online by following this link (fees apply) or by phone on 9979 2112.
Cost is $ 14.00, $ 5.00 of which will be credited against any purchases made on the evening.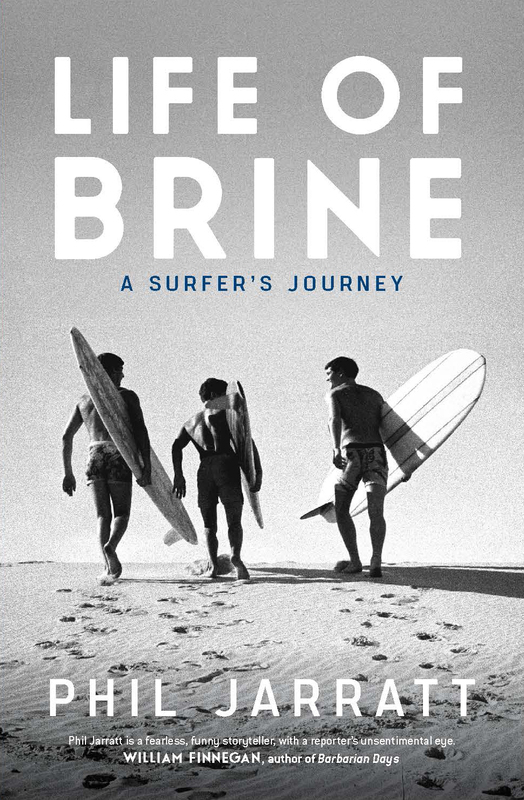 About the author:
Phil Jarratt has worked in surf publishing for almost forty years, and is regarded as one of the sport's foremost authorities. He has been a journalist with the Sydney Morning Herald and The Bulletin, editor of Playboy in the 70s, editor of Tracks and Australian Surfer's Journal and associate editor of Surfer. He has written more than thirty books including award-winning surf histories and bestselling biographies. Phil has received the Australian Surfing Hall of Fame Media Award three times and has won numerous other awards for this work. He has also worked in the industry both for Rip Curl and Quiksilver in the US, Australia and Europe. His documentary films includes Bali Heaven and Hell and Men of Wood and Foam.
He currently lives in Noosa Heads where he surfs every day there are waves.
Where: 12-14 Park Street, Mona Vale, 2103, Sydney, AU
When: Wed, 16th Aug
Time: 6:30 PM to 8:00 PM
Buy the book
Life of Brine: A Surfer's Journey
Jarratt Phil