Berkelouw's Eumundi Bookshop & Cafe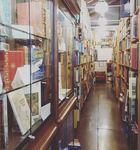 Latest Eumundi news
In this very special 60 minute presentation, you will learn how the Aromatree concept will help you gain an incredible insight into using essential oils and help you improve your essential oil blending skills. You will also learn how to help balance your chakra energy centres and Salvatore wi... (continued)
The first book to focus exclusively on women as subjects in street art, this study, part travelogue and part dialogue, examines these depictions of women artistically, politically, and culturally across continents. Interviews with artists peel back the layers between artist and image, revealin... (continued)
See all news »
Latest Eumundi book reviews
Reviewed by Poppy Solomon
~ Stuck in an eerie shopping centre outside of time and space, with everything they could ever want at their fingertips, six teens become like family ~ This isn't an apocalyptic sci-fi story about kids who turn into heroes; the teens form close bonds with each other, drink b... (
continued
)
Reviewed by Poppy Solomon
The Benevolent Society of Ill-Mannered Ladies by Alison Goodman – 5/5 stars A unique, disturbing and witty new historical fiction. ~High society regency era spinsters begin saving women in trouble – but the conspiracies they get themselves into are dea... (
continued
)
Read more of our reviews »
About Berkelouw Eumundi
Berkelouw Book Barn & Cafe on the Sunshine Coast
The oldest bookseller in Australia has opened its doors in the heart of Eumundi. Located in the beautiful hinterland of Noosa on Queensland's Sunshine Coast, Berkelouw Book Barn is a paradise-found for any book enthusiast.
Our stock consists of a comprehensive selection of new books, including new releases and imports that are not available from Australian publishers, over 100,000 secondhand books and a treasure trove of rare, specialty and early out-of-print titles.
Occupying the historic Eumundi Trading Post building, Berkelouw Book Barn and Cafe is a place where you can easily lose track of time. It is stacked to the rafters with books on hundreds of subjects. Our varied and eclectic stock will transport you through the ages. Both locals and holidaymakers will find the Book Barn to be a truly amazing place. Browse at a leisurely pace for as long as you like. Enjoy a great cup of coffee and indulge in some delicious homemade food.
We invite you to visit the Eumundi Book Barn & Cafe and experience the Berkelouw tradition.
Directions
Once on Bruce Highway, continue along Eumundi Memorial Dr exit,then take the Eumundi-Noosa Road exit at the roundabout, afterwards take the Memorial Drive exit at the next roundabout. About 20 mins from Noosa.
Get our newsletter!
Keep up to date with news and events at our Eumundi store.

Opening Hours
Monday 9am - 5pm
Tuesday 9am - 5pm
Wednesday 8am - 5pm
Thursday 9am - 5pm
Friday 9am - 5pm
Saturday 8am - 4pm
Sunday 9am - 4pm
Address
87 Memorial Drive
Eumundi
QLD 4562

Tel: (07) 5442 8366
Fax: (07) 5442 7945