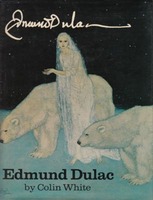 AVAILABLE TO BUY ONLINE
Availability Status
Ships within 2 - 9 business days
See our delivery page for our delivery guidelines.
This is a rare or used book from the Berkelouw Rare Books Department.
New York: Charles Scribner's Sons (1976). 4to. Orig. cloth. Dustjacket. (208pp.). Copiously illustrated in both colour and b/w. This book offers a ovrview of Dulac's success illustrating The Rubiyat of Omar Khayyam Charles Perrault Hans Christian Andersen and other books.
Book details and technical specifications
Stock No.: 232675
Published: 1976
Number of pages: not specified
Width: not specified
Height: not specified
Depth: not specified

Publisher: not specified
---