Harking Back. The Turf: Its Men and Memories.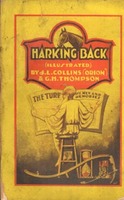 AVAILABLE TO BUY ONLINE
Availability Status
Ships within 2 - 9 business days
See our delivery page for our delivery guidelines.
This is a rare or used book from the Berkelouw Rare Books Department.
Brisbane 1924. 8vo. Orig. illust. wrapper (slightly chipped and rubbed). (xvi 308 viiipp.). With num. illusts. and contemp. adverts. Front wrapper semi-detached. NOTE: A popular history of racing and racing identities in Brisbane.
Book details and technical specifications
Stock No.: 247778
Published: 1924
Number of pages: not specified
Width: not specified
Height: not specified
Depth: not specified

Publisher: not specified
---