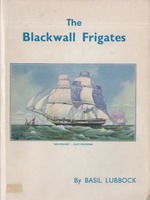 AVAILABLE TO BUY ONLINE
Availability Status
Ships within 2 - 9 business days
See our delivery page for our delivery guidelines.
This is a rare or used book from the Berkelouw Rare Books Department.
Glasgow: Brown Son & Ferguson Ltd. (1973). Sm. 4to. Orig. cloth. Dustjacket. (xvi 280pp.). With frontisp. 44 full-page plates 6 full-page plans and end-paper maps. Slightly rubbed dustjacket otherwise fine. NOTE: A link between East Indiaman and the P. & O. and Oriental liners.
Book details and technical specifications
Stock No.: 247331
Published: 1973
Number of pages: not specified
Width: not specified
Height: not specified
Depth: not specified

Publisher: not specified
---