The Platypus. The World's Wonder Animal.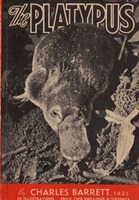 AVAILABLE TO BUY ONLINE
Availability Status
Ships within 2 - 9 business days
See our delivery page for our delivery guidelines.
This is a rare or used book from the Berkelouw Rare Books Department.
Melbourne (1941). 8vo. Orig. wrapper. (64pp.). With frontisp. & num. illusts. 1st edition. NOTE: A monotreme mammal the Platypus lays eggs and lives underwater. Its unusual appearance makes it one of the more unique animals living in Australia.
Book details and technical specifications
Stock No.: 242723
Published: 1941
Number of pages: not specified
Width: not specified
Height: not specified
Depth: not specified

Publisher: not specified
---