Tourist Guide to China Japan Islands and Ports en route Australia and Tasmania. Contributors: Sydney Halifax A.B. Paterson E. Burton. Compl. and Ed. by A.L. Storrie and J.W. Kettlewell. ...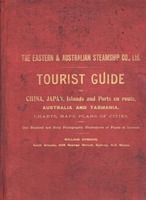 AVAILABLE TO BUY ONLINE
Availability Status
Ships within 2 - 9 business days
See our delivery page for our delivery guidelines.
This is a rare or used book from the Berkelouw Rare Books Department.
Sydney: William Dymock 1899. Sm. 4to. Orig. gilt titled cloth (lightly marked). (xvi 284 ivpp.). With charts maps plans of cities 160 photographic illusts. and contemporary adverts. F.9364a. Scarce.
Book details and technical specifications
Stock No.: 247424
Published: 1899
Number of pages: not specified
Width: not specified
Height: not specified
Depth: not specified

Publisher: not specified
---