Town Planning for Australia. ... Introd. by J. Sulman.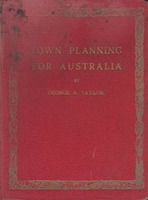 AVAILABLE TO BUY ONLINE
Availability Status
Ships within 2 - 9 business days
See our delivery page for our delivery guidelines.
This is a rare or used book from the Berkelouw Rare Books Department.
Sydney (1914). Sm. 4to. Orig. cloth (covers stained; corners rubbed). Gilt. (136pp.). Profusely illust. and with some interesting adverts. Name on front endpaper. A good complete copy of a now uncommon book.
Book details and technical specifications
Stock No.: 231356
Published: 1914
Number of pages: not specified
Width: not specified
Height: not specified
Depth: not specified

Publisher: not specified
---